Introduction
Whilst defined contribution (DC) pensions are now numerically the dominant form of pension provision, it is still defined benefit (DB) schemes that are making all the headlines.
DB landscape – estimated cash outflow from schemes
We have for you a summary slide painting a picture of the DB landscape as it is right now.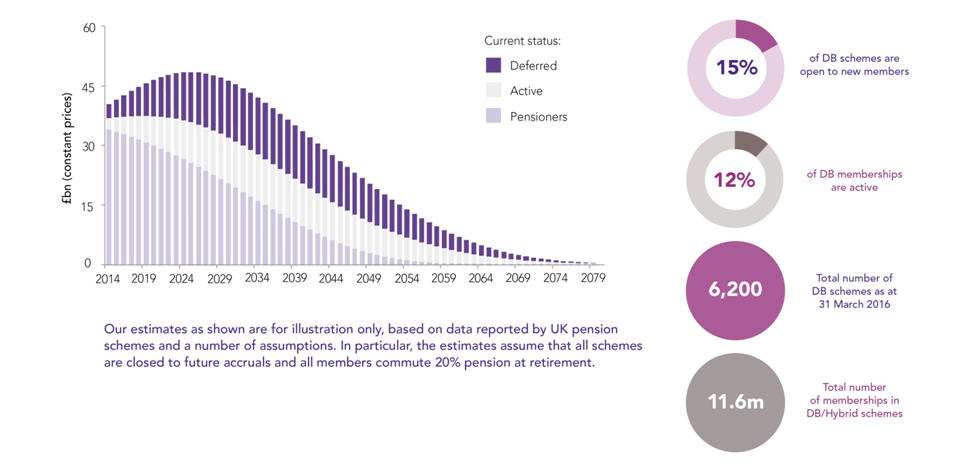 But I think it's important once again to stress that our data shows that the majority of schemes are supported by employers that can support their deficits. We believe the majority will be able to meet their obligations as they fall due. The majority of members will receive the full pension payments that they're entitled to.
But it is true that many DB scheme deficits, however you measure it, have increased dramatically in recent years mostly because of persistent low interest rates. And it is true that some employers struggle to make their deficit repair contributions usually for reasons that have nothing to do with their pension schemes.
The slide shows you the estimated cash outflow from DB schemes over the next 60 odd years, the percentage of schemes open to new members, percentage of memberships that are active, total number of DB schemes and total number of members who are in DB or hybrid schemes. I'll give you a moment to read this.
So that gives you a picture of the size and shape of the DB world.
We do recognise that the situation is not easy for many of these schemes. The challenging economic conditions have been well documented and are likely to continue in some form.
And while most schemes remain affordable for their employers and most are unlikely to end up in the excellent Pension Protection Fund – such a key part of our framework for DB – we believe that many schemes should do more to tackle their deficit and reduce the risk to their members and to the PPF.
We do acknowledge that there are many demands on employers' cash. When we talk about 'affordable' that is of course a regulator's definition of affordable, a narrow definition. 'Affordable' means different things to different employers and there is an entirely separate debate as to whether it's desirable or fair for example between generations to pay big sums into the DB scheme.
But as the regulator we do believe that if employers can pay into their scheme, to repair their deficits, then we think they should pay in to their schemes and we would have particular concerns if the scheme is not being treated fairly in respect of other stakeholders, for example if dividend payments are being prioritised over deficit repair contributions. This is an example of us trying to make our expectations clearer and it leads me on to speak about what we are trying to do with the regulatory landscape through how we regulate.
TPR Future
I'm sure that many of you will have heard about TPR Future, the project that the Board and I commissioned towards the end of last year to review our regulatory approach, and to make sure that we remain an effective regulator fit for purpose for the next five to 10 years.
There are three phases to the project. The first phase was an independent review, diagnosis and analysis which involved looking at the risks and opportunities for TPR over the next ten years.
That stage is now complete, and in summary what we learned from you at this stage showed us that we needed to be clearer, quicker, and tougher. We have already begun evolving in that direction – making changes internally to the way we work and you may have seen evidence of this in practice.
We are acting more quickly and we are starting to exercise the full suite of powers available to us. I'll speak about our use of powers a bit more in a moment.
We're now into the second stage of TPR Future – the design stage. This is where we're looking at different regulatory approaches that will be needed across our remit. We are of course an experienced DB regulator but more and more of the demands on us are around public sector schemes and DC master trusts and so on. This stage is likely to last until Spring of next year – and at that point we'll move into the third stage, which is implementation.
For example we are looking to broaden the range of tools and techniques that we employ as a regulator; we will need to look at the circumstances where we need to actively monitor and test compliance. We want to move forward the points of interaction with schemes in certain cases to become more proactive. It may result for a limited number of schemes in us having a more active, ongoing relationship with those schemes rather than in the DB world centring everything around the valuation cycle.
One example is thematic reviews – and we have two already underway, one looking at Value for Members and the other at Pension Contributions, and we are considering others for example on Investment Policy, and how schemes are dealing with cyber risk. These thematic projects may well cover all types of scheme, DC, DB, master trusts, and schemes of all sizes so small schemes should not imagine they will fly under our radar.
We are also looking at the best way of increasing our regulated activity across that whole range of schemes both by sector and by size but also to target out communications better. We hear that bigger schemes and smaller schemes have different needs from us and we need to reflect that.
However, I don't want to pre-empt the detailed output of the second stage, which is still in progress. We will say more about it next year. It is not about seeking new powers. TPR Future is about us using our existing range of powers as effectively as possible alongside other regulatory tools.
Use of regulatory powers
Let me move on now more specifically to our use of powers. For many years our regulatory approach was to educate, enable, enforce – with the emphasis on educate. But our regulated community told us they want us to be tougher on those who do not comply.
So we are becoming tougher. We're intervening more quickly and we're exercising some of our powers for the first time.
I know that the power that excites more than any other is the Section 231 power, that's the power to impose a schedule of contributions if we're not satisfied with what has been agreed by the trustees and employer.
I can confirm that we have issued a warning notice in respect of Section 231. This is an ongoing case and I can't speak about the specifics – other than to say that it demonstrates that we will intervene if we see a scheme being treated unfairly. We do have other potential cases underway.
Section 231 cases are complex and the power must be exercised by TPR's Determinations Panel, a group of people separate from the investigation, and so we have to persuade them that it is the right thing to do. They are open to being challenged further in the Upper Tribunal and beyond. The Warning Notice is only the first stage in an often lengthy process and it may result in settlement before it reaches the Determinations Panel. It may be possible to settle at that point. It is impossible to judge whether any or all cases will go through and result in a final decision.
We are also using certain powers for the first time on our 'compliance with the basics' work, for example fining trustees when they fail to send in a scheme return or a chair's statement in DC world. In 2016 around 10% of DB schemes were late completing their scheme return or did not send it in at all, and this is unacceptable.
We have been accused by some of being a bit heavy handed or having abandoned our 'risk-based' approach because failing to submit a scheme return is such a small a failing and is therefore not a risk to members.
But this argument doesn't hold – we can only operate effectively as a regulator by collecting information from our regulated community and our annual return is very often our only engagement with certain schemes. It helps us to monitor the landscape, identify risk and then target our regulatory effort and our communications. So scheme returns have an important role to play in enabling us to apply our limited resources effectively.
And, as we've said before, failing to get the basics right can be symptomatic of more serious failings in a scheme and we are well aware of the deterrent effect of fines in this area, for a period at least.
21st Century Trustee work
This leads me on to our work on 21st Century Trusteeship, our ongoing programme of work to drive up standards of governance across all schemes. Good governance and admin are as relevant to DB schemes as they are to DC and to PSPS schemes.
Our research shows there is some very very good practice out there – but it also shows that standards are patchy.
There is a lot of good thinking in the industry about governance – the PLSA's recent report 'Good Governance – How to get there' for example, which talks about the importance of having the right people on trustee boards and the ingredients that make up a good governing body – such as collective technical knowledge and a diversity of thinking and perspectives is to be welcomed.
We are very much aligned with that, and our message to trustees who are not up to standard is quite clear – it's time to step up. There is a rump where it is quite clear that they are not responsive to messages from the regulator. Our focus is how we get those schemes to engage and if they persist in falling below, we will take necessary action.
We want to use the levers which are most effective in this situation so we are for example working with professional trustees, and we have published a definition of what we mean by a professional trustee and we are encouraging that sector of the industry to develop its own standards. We'd like to see evidence of skills and knowledge in this sector, preferably through some sort of accreditation.
And at the other end of the spectrum, we've been looking at poor standards of trusteeship, such as when trustees fail to submit recovery plans on time, poor record-keeping or not responding to our requests for information; or for example where trustee boards don't have the correct level of knowledge and understanding.
Our communications campaign and the additional tools we are providing on our website should all help with this and our goal here is to ensure the governance of all schemes gets to good minimum standard.
Our intention is to set out clearly what our expectations are and how we will measure them. We will consider enforcement action if the standards are not being met. This could include sending improvement notices, issuing fines for breaches of law or even replacing trustees who don't demonstrate an acceptable level of knowledge and understanding.
The other way this could be addressed is by encouraging consolidation. Clearly that will be more challenging for DB schemes than for DC schemes, and I know we're going to pick up on consolidation on the panel a little later.
Conclusion
The past few years have been a challenging time for many DB schemes. We understand that.
We've heard the message loudly from our regulated community that they need us to be clearer about what's expected of them, whether that relates to funding or to governance, and that they expect us to take action where they see bad practice and people falling below standards. So I want to make it clear that we've heard that message, and that we're responding – we're absolutely committed to helping trustees and employers do the right thing by their members in these challenging times.

Lesley Titcomb
Chief Executive Officer