Colour is a powerful way for us to communicate with our audiences.
We use colour carefully to create visual harmony across all our communications.
Primary colour palette
The core colours should be the most prominent. Add the secondary colours sparingly (less than 30% of the design area) to provide extra life and impact.
For example, they can be used to emphasise a section of text. This is a useful option when no appropriate image or graphic is available.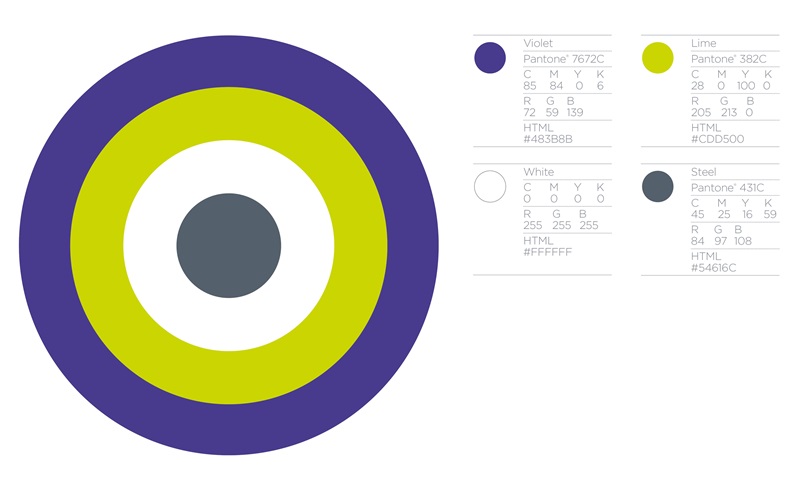 | Primary colours | HEX |
| --- | --- |
| Violet | #483B8B |
| Lime | #CDD500 |
| White | #FFFFFF |
| Steel | #54616C |
Secondary colour palette
Our secondary colour palette is used to inject energy and vibrancy into our applications and asset suite.
Only use each one individually when applied as a background colour. Do not overlay one onto another.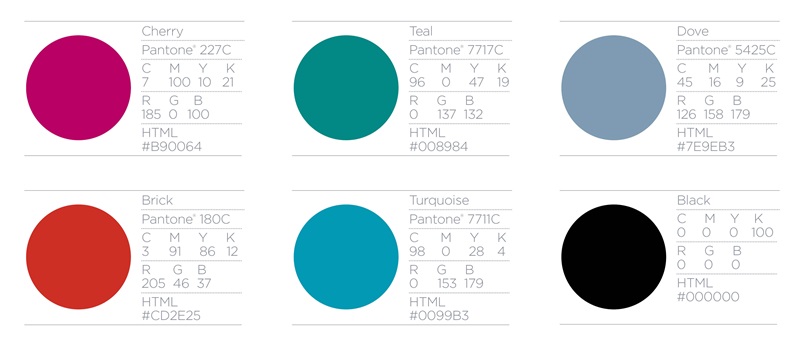 | Secondary colours | HTML |
| --- | --- |
| Cherry | #B90064 |
| Teal | #008984 |
| Dove | #7E9EB3 |
| Brick | #CD2E25 |
| Turquoise | #0099B3 |
| Black | #000000 |
Be accurate
Colours must be produced accurately across all communications.
Always match the breakdown references for the primary and secondary colours above.
RGB values are for presentations, websites, video and other screen-based applications.
Always set up final artwork destined for print using CMYK, never RGB. Give the Pantone® references to the printers for matching purposes.
Colour contrast
Creating contrast between type and background colour is crucial. Always use a dark type colour on light backgrounds, and white type on dark backgrounds.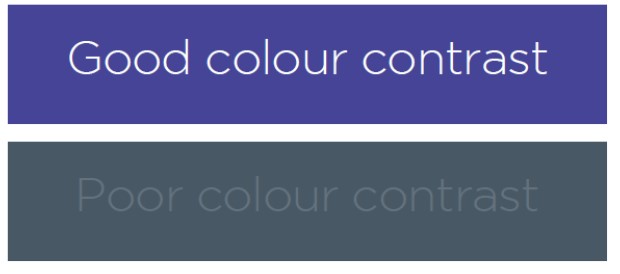 Avoid using teal and turquoise together as people with colour blindness can find it hard to tell the difference. Similar or jarring colours should also be avoided: so, no cherry on brick, turquoise on brick or vice versa.
Colour combinations
There are seven pre-defined colour combinations to choose from when applying a solid background colour.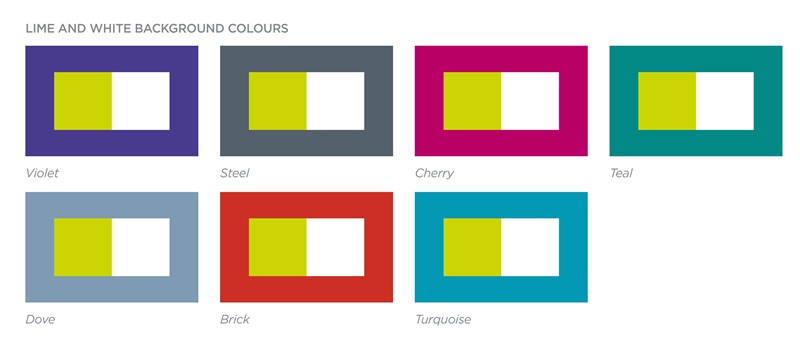 Each one of these has been specifically created to ensure vibrancy, standout and differentiation.
Lime and white together can be applied on top of all remaining primary and secondary colours.
Colour tints
In print, only use colour tints in charts, graphs, tabbing systems, signposting or pull out boxes. They should never be used at less than 12%.
Primary colour tints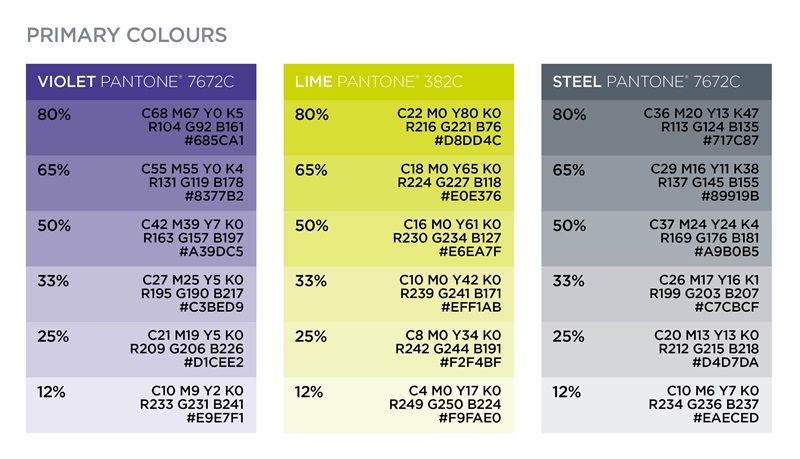 | Primary tints | Violet | Lime | Steel |
| --- | --- | --- | --- |
| 80% | #685CA1 | #D8DD4C | #717C87 |
| 65% | #8377B2 | #E0E376 | #89919B |
| 50% | #A39DC5 | #E6EA7F | #A9B0B5 |
| 33% | #C3BED9 | #EFF1AB | #C7CBCF |
| 25% | #D1CEE2 | #F2F4BF | #D4D7DA |
| 12% | #E9E7F1 | #F9FAE0 | #EAECED |
Avoid excessive use of tints.
There is slightly more leeway online where tints are often used to aid navigation. However, try to keep colours as strong as you can.
Secondary colour tints

| Secondary tints | Cherry | Teal | Dove | Brick | Turquoise |
| --- | --- | --- | --- | --- | --- |
| 80% | #C6487F | #009D9B | #96AEC1 | #D75C46 | #00ACC3 |
| 65% | #CF6E97 | #55AEAD | #A9BBCB | #DF7C64 | #4FBBCF |
| 50% | #DC7FB1 | #7FC4C1 | #BECDD8 | #E69692 | #7FCCD9 |
| 33% | #E8ABCC | #ABD8D6 | #D4DEES | #EFBAB7 | #ABDDE6 |
| 25% | #EDBFD8 | #BFE1E0 | #DEE6EB | #F2CBC8 | #BFE5EC |
| 12% | #F6E0EC | #E0F1F0 | #EFF3F6 | #F9E6E4 | #E0F3F6 |
Using colour on graphs
To achieve a consistent look and feel in our charts and graphs, use a range of colours, always starting with our primary colours. Only use the secondary colours if more are required.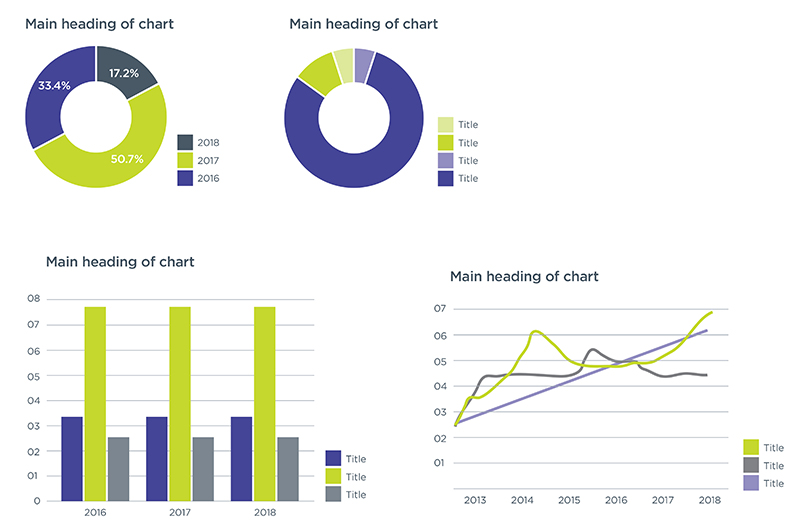 You can use specified tints of any of the primary and secondary colour palettes to expand the range or if there are budget restraints.
Be careful to maintain the same high level of contrast when using a two-colour process.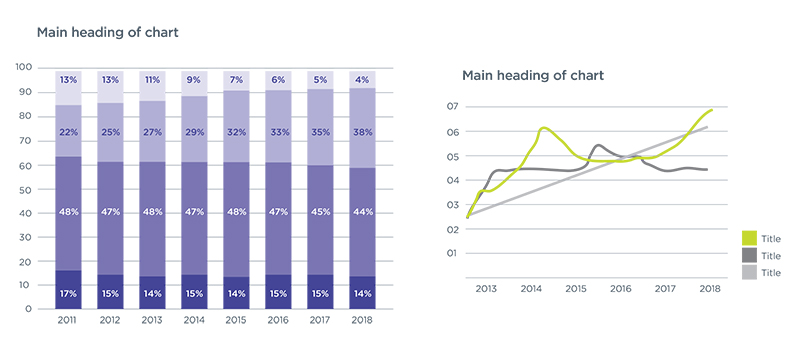 For guidance on adding charts into your communications see figures, charts and diagrams.
Using colour on tables
The examples shown below demonstrate the table variations that are possible while still adhering to the following rules:
Divide rows using tinted steel panels or steel lines.
Top and bottom rows can be highlighted with coloured type or coloured panels (in violet and steel).
Use steel for text on white and tinted steel panels.
Use white text on steel and violet panels.
You can use white if you need to use vertical lines to separate columns.
You can use violet to highlight key text.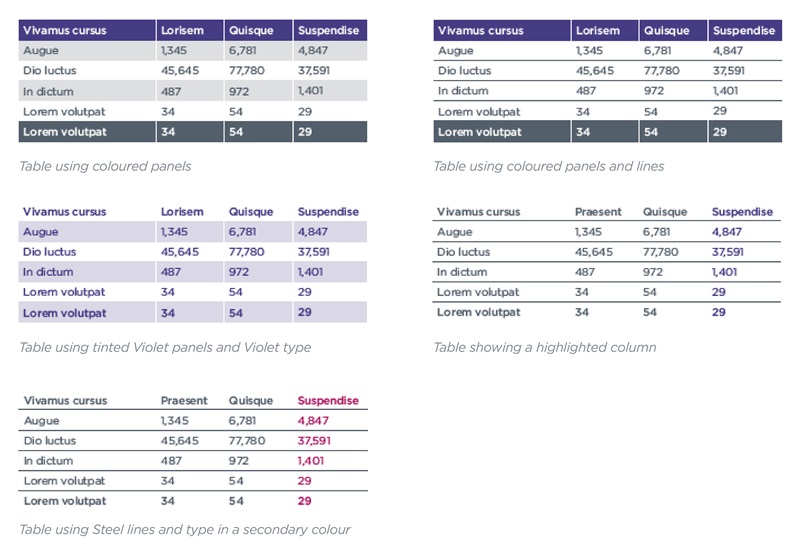 To highlight text in a table, use our violet colour.
If your table appears in a section that predominantly uses a colour from our secondary palette, you can use this colour as a highlight instead.
Do not use lime as a text colour or as tinted panels.
For guidance on using tables in your communications see tables.
We will be adding more detailed guidance on charts and diagrams to this guide in due course. In the meantime the ONS has some useful guidance on how to use data visualisation.