FOI ref - FOI-6002
Date - 23 June 2021
Request
I am aware that TPR publishes annual reports on recovery plan lengths for each 'tranche' of DB schemes, and would be grateful to be supplied with data on recovery plan lengths subdivided between a) DB schemes with not-for-profit sponsors and b) all other schemes. Ideally, I would like to receive data across a complete set of three 'tranches' of data, but if this falls beyond the cost limit for an FOI reply I would be content with data for a single tranche. I would like a *distribution* of recovery plan lengths with as granular a breakdown as possible, as well as average (mean/median) recovery plan lengths if available.
I would also be interested to receive data on the proportion of schemes where a contingent asset has been used to support a recovery plan, again subdivided between a) not-for-profit sponsors and b) all other schemes.
Response
I can confirm that we hold information falling within scope of your request.
Information we are able to supply
We are able to supply the data for tranches 11, 12 and 13. Please note that the resultant output has been amalgamated from these different tranches, which will have faced very different market conditions and funding levels. We have derived the cohort of schemes with a non-profit sponsor using a mixture of data sources including Companies House, The Charities Commission and other agencies, and have overlaid this with manual checking and cleansing. Where a scheme has more than one sponsor, we have assumed that the whole scheme will be allocated to the specific cohort by applying the above derivation to the sponsor with the most DB members within that scheme.
The chart below illustrates the percentile distribution of Recovery Plan (RP) length for the For-profit/Non-profit cohorts, cut at the 5th/95th percentile, and the underlying table can be found at the end of this response.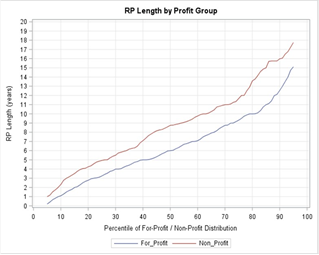 The table below provides the mean and median RP length per cohort.
| | | |
| --- | --- | --- |
| | Median RP length | Mean RP length |
| For-profit sponsor | 5.9958932 | 6.7371177 |
| Non-profit sponsor | 8.752909 | 8.9205641 |
The table below provides the percentage of schemes where a Contingent Asset has been used per cohort.
| | | | |
| --- | --- | --- | --- |
| | Contingent Asset not used | Contingent Asset used | Total |
| For-profit sponsor | 71.66 | 16.5 | 88.16 |
| Non-profit sponsor | 10.24 | 1.6 | 11.84 |
| Total | 81.91 | 18.09 | 100 |
| For-profit | Non-profit | Percentile |
| --- | --- | --- |
| 0.1999 | 0.9966 | 5 |
| 0.4162 | 1.1636 | 6 |
| 0.6653 | 1.5195 | 7 |
| 0.8296 | 1.7495 | 8 |
| 0.9966 | 2.0014 | 9 |
| 1.0951 | 2.3244 | 10 |
| 1.2786 | 2.7789 | 11 |
| 1.4976 | 2.9979 | 12 |
| 1.6619 | 3.1485 | 13 |
| 1.7878 | 3.3292 | 14 |
| 1.9959 | 3.5099 | 15 |
| 2.0808 | 3.7481 | 16 |
| 2.2779 | 3.937 | 17 |
| 2.5024 | 4.052 | 18 |
| 2.6667 | 4.0903 | 19 |
| 2.7803 | 4.2464 | 20 |
| 2.9377 | 4.3504 | 21 |
| 2.9979 | 4.564 | 22 |
| 3.0445 | 4.7502 | 23 |
| 3.1102 | 4.8569 | 24 |
| 3.2498 | 4.9336 | 25 |
| 3.4196 | 4.9966 | 26 |
| 3.5483 | 5.0048 | 27 |
| 3.7481 | 5.2238 | 28 |
| 3.8303 | 5.3881 | 29 |
| 3.9973 | 5.5003 | 30 |
| 3.9973 | 5.7467 | 31 |
| 4.0438 | 5.8316 | 32 |
| 4.2026 | 5.9247 | 33 |
| 4.3313 | 6.0041 | 34 |
| 4.4271 | 6.1656 | 35 |
| 4.5777 | 6.2505 | 36 |
| 4.7447 | 6.3025 | 37 |
| 4.8104 | 6.4942 | 38 |
| 4.9582 | 6.8583 | 39 |
| 4.9966 | 7.0801 | 40 |
| 4.9993 | 7.3374 | 41 |
| 5.0267 | 7.6277 | 42 |
| 5.0924 | 7.8138 | 43 |
| 5.2019 | 8 | 44 |
| 5.3333 | 8.1506 | 45 |
| 5.4949 | 8.2464 | 46 |
| 5.6646 | 8.2984 | 47 |
| 5.7906 | 8.4326 | 48 |
| 5.9658 | 8.5859 | 49 |
| 5.9959 | 8.7529 | 50 |
| 6.0397 | 8.7721 | 51 |
| 6.2012 | 8.8569 | 52 |
| 6.3299 | 8.9144 | 53 |
| 6.5106 | 8.9966 | 54 |
| 6.6968 | 9.0705 | 55 |
| 6.7625 | 9.1636 | 56 |
| 6.872 | 9.2813 | 57 |
| 6.9952 | 9.4182 | 58 |
| 7.0007 | 9.629 | 59 |
| 7.0815 | 9.7659 | 60 |
| 7.2498 | 9.9138 | 61 |
| 7.4962 | 9.9959 | 62 |
| 7.6413 | 9.9986 | 63 |
| 7.7591 | 10.0835 | 64 |
| 7.9179 | 10.2478 | 65 |
| 8 | 10.4203 | 66 |
| 8.167 | 10.7461 | 67 |
| 8.4162 | 10.8255 | 68 |
| 8.5832 | 10.9158 | 69 |
| 8.7474 | 10.9952 | 70 |
| 8.783 | 10.9979 | 71 |
| 8.9802 | 11.0637 | 72 |
| 8.9993 | 11.2444 | 73 |
| 9.1526 | 11.3402 | 74 |
| 9.3087 | 11.6632 | 75 |
| 9.5003 | 11.9973 | 76 |
| 9.7495 | 12.0055 | 77 |
| 9.8836 | 12.5202 | 78 |
| 9.9959 | 12.9117 | 79 |
| 9.9986 | 13.5852 | 80 |
| 10.0096 | 13.7823 | 81 |
| 10.1081 | 14.1684 | 82 |
| 10.36 | 14.6064 | 83 |
| 10.757 | 14.872 | 84 |
| 10.9925 | 15.0007 | 85 |
| 11.1157 | 15.7043 | 86 |
| 11.4114 | 15.7481 | 87 |
| 11.9863 | 15.7481 | 88 |
| 12.1177 | 15.7481 | 89 |
| 12.5448 | 15.9836 | 90 |
| 12.9966 | 16.052 | 91 |
| 13.5086 | 16.4956 | 92 |
| 13.9986 | 16.7611 | 93 |
| 14.7515 | 17.2512 | 94 |
| 15.1129 | 17.7577 | 95 |