Our action plan to support governing bodies to improve their diversity and inclusion practices.
Introduction
Our Corporate Strategy sets out our commitment to make workplace pensions work for savers. We are focused on ensuring that the saver remains at the heart of all that we do and that we enhance and protect all savers' pensions. We want to build a workplace pension system that works for everyone.
Because of automatic enrolment, more people than ever before are saving into workplace pensions. As a result, those savers we protect have become an increasingly diverse group. We want to enhance and protect the outcomes for all savers. This includes good value for money, high standards of governance, and confidence that decisions made on their behalf are fair and in their best interests. Supporting governing bodies to improve their diversity and inclusion practices is a key element to achieving these goals.
We believe this is important for good governance and decision making and can be beneficial to good saver outcomes. A diverse pensions governing body made up of people who have a broad range of characteristics, backgrounds, life experiences, expertise, and skills will tend to lead to wider discussion and better decision making, which should result in long-term improvements to savers' outcomes. To improve equality and diversity the board needs a culture of inclusion and an effective chair who promotes this.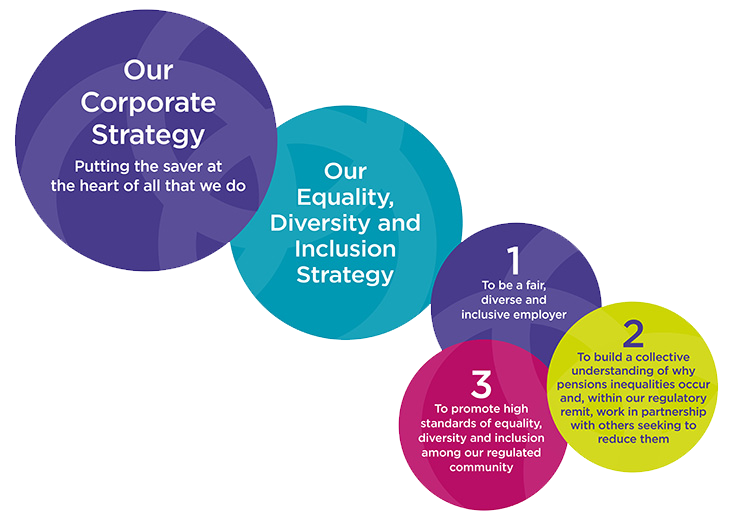 Our Equality, Diversity and Inclusion (EDI) Strategy sets out our ambition to build a workplace pension system that works for all. It has three strategic aims:
To be a fair, diverse and inclusive employer.
To build a collective understanding of why pension inequalities occur and within our regulatory remit, work in partnership with others seeking to reduce them.
To promote high standards of equality, diversity and inclusion among our regulated community.
This action plan supports the delivery of the third strategic aim and details the areas, actions, and expectations that we intend to focus on in the next two years. Delivering the third strategic aim will also contribute to the second strategic aim, by improving understanding of EDI within the regulated community. The action plan highlights our commitment to drive behavioural change within our regulated community and, in particular, across the trustee landscape. We are committed to working with trustees and the wider industry to develop approaches that will protect and improve saver outcomes.
As a public body and employer, we are on an EDI journey. We recognise that we need to do more to become a more diverse and inclusive organisation. Alongside our work influencing and driving change across the pensions industry, we continue to evaluate and challenge ourselves to become fairer, more diverse and inclusive in the way we operate as an employer and regulator. We set out our ambitions for the organisation that we want to be in our EDI Strategy. We continue to learn, develop, and evolve our thinking both as an employer and for our regulated community.
Our vision
We want to build a workplace pension system that works for everyone. Our long-term aspiration is for governing bodies to represent today's society to make inclusive decisions that deliver good and fair outcomes for all savers.
In creating this action plan, we have reflected on and utilised the responses and recommendations from the future of trusteeship and governance consultation published in 2020.
In our response to that consultation, we agreed it would be beneficial to create an industry working group to bring together the available wealth of knowledge and experience to help trustees and employers improve the EDI of pension governing bodies. Our ambition to launch an industry-led group, Diversity and Inclusion Working Group (IWG), was realised in January 2021. We met with over 60 representatives from across the pensions industry to discuss ways in which we could support trustee boards to take steps to become more diverse and inclusive.
As set out in the IWG's terms of reference, we want to achieve our goal by:
raising the profile and extoling the benefits of diversity and inclusion in pension governing bodies
identifying barriers to pension governing bodies becoming more diverse and inclusive and providing ways to overcome them
providing practical tools and guidance for schemes to use and identify ways of supporting pension schemes to take the necessary steps to improve diversity and inclusion
creating a better understanding of the current diversity and inclusion landscape within pension governing bodies and means of measuring improvements
We are committed to working with trustees and the wider industry to help develop approaches that support governing bodies to benefit from improved diversity and inclusion that will best protect savers' benefits and create opportunities for better and fairer outcomes. We recognise that change will not happen overnight. It will take time and effort and is likely to be an ongoing and incremental process.
We also recognise that improving diversity and inclusion is an ongoing process of good practice and not a defined target or destination. We acknowledge that this is a journey that will require commitment and support from ourselves and across the pensions industry. We expect, however, that we will see change put into effect across pension schemes and that it will make a difference and improve long-term outcomes for savers.
Our objectives
As a public body, when exercising our functions, we are required by law to have due regard to the need to:
eliminate unlawful discrimination, harassment, and victimisation
advance equality of opportunity
foster good relations between persons who share a relevant protected characteristic and persons who do not share it
This is called the Public Sector Equality Duty. Seeking practical ways of enhancing diversity and inclusion in the makeup of governing bodies in our regulated community is relevant to these aims.
The Diversity and Inclusion Industry Working Group
When the IWG was set up, we envisaged that the group would deliver:
a clear definition of what is meant by diversity and inclusion
good and best practice guidance on board composition, and how pension governing bodies can make the most of the pool of potential trustees they have available to them
practical tools and case studies to promote the recruitment of diverse trustees
inclusive material that can help to promote the benefits of becoming a trustee
engagement with employers to recognise the benefits of the trustee role in the personal development of employees
To best work on its deliverables, the IWG established four workstreams:

Data, research, and innovation subgroup
This workstream is looking at data and supporting us in developing a baseline from where we can gauge how diverse and inclusive boards are and monitor changes over time. They are also supporting us to review the evidence base and inform how we engage with schemes to develop our understanding of the links between improved diversity and inclusion and improved governance and saver outcomes.
We asked this group to focus on:
what we currently know about diversity and inclusion in pensions governing bodies
if we have enough data/evidence to form a baseline or whether we need to create one
how diversity and inclusion align with fiduciary and other legal trustee duties
how boards can use data to better understand their board composition
how we can improve data/research on diversity and inclusion
what research/sources of data are most effective in helping trustees to build a diverse and inclusive board
how innovation can help to improve diversity and inclusion
Standards and best practice subgroup
This workstream is supporting us to develop good practice guidance on trustee board composition, and how boards can make the most of the pool of potential trustees they have available to them.
We asked this group to focus on:
how to attract and retain a mix of characteristics, skills, experience, and innovative approaches
the role of the chair in creating a diverse and inclusive trustee board and driving culture change
the relationship between board diversity and scheme type
how boards should be balanced between types of trustees: member-nominated trustee, employer-nominated trustee, lay, and professional
pathways to diverse and inclusive trustee boards
methods of ensuring inclusive trustee boards
exploring to what extent the diversity of a pension board should reflect the scheme membership
Practical tools and case studies subgroup
This workstream is supporting us to develop practical tools, case studies, and inclusive material to promote the recruitment of diverse trustees, and to promote the benefits of becoming a trustee.
We asked this group to focus on:
the barriers to involvement in trusteeship and inclusive boards, and ways in which we can remove these barriers
if different groups experience different barriers
the impact of intersectionality and how this should be addressed
tools to match the needs of the board with a pool of candidates
broadening the appeal of trusteeship and attracting the right mix of individuals and skills to complement and enhance the board
tools to increase the pool of potential candidates for trustee roles
Employer engagement subgroup
This group will support us to deliver guidance on engaging with employers to help broaden the appeal of trusteeship.
We asked this group to focus on:
the role of employers in helping their staff to see trusteeship as an opportunity that is open to all, which can help individuals develop skills which will benefit the scheme and the wider business
how to engage with employers to help them recognise the benefits of diversity and inclusion on trustee boards
scope for a mentoring programme
The definition of diversity and inclusion
We recognise that there can be many 'forms' of diversity, which capture a wide variety of individual differences, that may not be immediately apparent when we first meet someone. In consultation with the IWG, we have decided to adopt the definition used by Pensions and Lifetime Savings Association (PLSA), which is broader than the Equality Act protected characteristics[1] and encompasses a wider range of individual differences, for instance, socio-economic background and neurodiversity.
We are also aware that our experiences of diversity are likely to be influenced by a multitude of factors. Each of us has a number of protected or other characteristics resulting in us having more than one 'identity', some of which we may share with others. The overlapping of our own and other people's identities may mean that our life experiences are different. This, in turn, may help to identify and address the multiple levels at which discrimination and inequalities are experienced.
Inclusion means the effective involvement of individuals from all backgrounds, creating an environment in which they can thrive and reach their full potential. In an inclusive environment, their diverse characteristics and 'identities' are mutually beneficial to individuals and organisations, enabling the best decisions to be made.
Equality, diversity and inclusion are interlinked. Having people from different backgrounds might mean that a governing body is more 'diverse', but if those people don't feel respected or heard, then the governing body will not benefit from the full talents and experiences of those people.
When considering diversity and inclusion and what they mean for pension scheme savers and governing bodies, we would encourage employers and governing bodies to look beyond characteristics protected by law[2].
We recognise that it is not always straightforward to gather data, measure change, or compare levels of D&I within pension scheme governing bodies or with others. There are many reasons for this including, for example, there is no single or correct way for assessing diversity based on 'race'; which characteristics should be considered as part of assessing and improving D&I may differ between schemes; some people may not wish to provide information about their characteristics for these purposes. We are firmly of the view that these challenges should not mean complacency about improving D&I, rather they mean that data gathering and output should be considered carefully, and there may not be a single 'correct' way to do things. When developing a baseline for the diversity of governing bodies, we will consider if it would be more appropriate to focus on a smaller set of measurable data.
Footnotes for this section
[1] Those being: age, disability, gender reassignment, marriage and civil partnership, pregnancy and maternity, race, religion or belief, sex, and sexual orientation.
[2] See footnote 1.
Our action plan deliverables
Expectations and guidance
We want to drive behavioural change by setting clear expectations for trustees supported with practical guidance. Following consultation on our single modular code of practice, we received feedback that industry would welcome clear expectations on EDI to be included. We intend to clarify our expectations in the forthcoming new code of practice.
Research from LCP among defined benefit (DB) schemes, concluded that recruitment, engagement, and resource were the three main barriers to trustees taking more action on EDI. This indicates that there is a need for support to understand the benefits of EDI, and how to adopt different recruitment approaches to increase the pool of potential candidates. Our own research (PDF, 392KB, 16 pages) also suggests a lack of understanding of why the EDI on boards is considered important.
We are working with the IWG 'standards and best practice', 'employer engagement' and 'practical tools and case studies' subgroups to produce a package of good practice guides, case studies and tools for employers, trustees and advisers. This guidance will be designed to support them to understand and meet our expectations, and will focus on:
what diversity and inclusion means for governing bodies
attracting diverse candidates to the trustee role
engaging with the employer
creating and maintaining an inclusive culture
ensuring member communications are inclusive
Once we have published EDI guidance, we will review our existing guidance and templates to identify where further changes may be needed.
Action: We will work with the IWG to publish EDI guidance for trustees and employers by the end of the 2022/23 financial year.
Progress indicators
By setting clear expectations and providing guidance:
governing bodies will have better understanding and confidence to apply good practice in diversity and inclusion
diversity and inclusion of the governing body will be seen as important to the employer and the governing body
more governing bodies will collect data to understand the diversity of their board
governing bodies will develop a good understanding of the diversity of their membership to inform their decision making
trustees will understand how to create more inclusive recruitment processes to increase opportunities to attract a more diverse pool of candidates
Data and research
Work conducted by the data, research, and innovation subgroup indicates that there is limited data available on the diversity of trustee boards in the UK. Our own research also demonstrates that few trustee boards collect data on the diversity of their boards, with only 10% of DB and 14% of defined contribution schemes recording data. The main reasons for not collecting data were because trustees had either not thought to do so or did not think it was needed.
It is important to understand the level of diversity among trustees to know where there is underrepresentation, both as an industry, but also for governing bodies themselves. Understanding the diversity of the board will help inform governing bodies' assessment of where there may be gaps in viewpoints and personal experience that could improve challenge, debate and decision making.
A lack of diversity in the composition of pension scheme boards is something that has been recognised for a number of years. For example, the 2016 PLSA Annual Survey found that, on average, schemes had more than eight in 10 (83%) male trustees, with one quarter of trustee boards being all male. Aon's research from the same year showed that the average trustee was male, 54 years old, with a university degree. We want to collect further data on the diversity of trustees to deepen our understanding of the issues and enable us to track how the trustee landscape changes over time. This will inform our future policy work and evidence gathering on the links between diversity and governance standards.
With the support of the data, research, and innovation subgroup, we plan to test a pilot of an all-trustee survey in 2023, to collect diversity data directly from trustees to set a baseline.
We will also continue to explore options with the data, research, and innovation subgroup, to develop a suitable mechanism for collecting data in the longer term to measure progress over time, which may include:
running an all-trustee survey at regular periods, for example, triennially
adding questions to the scheme return or service for reporting data
tracking progress via existing annual surveys
Action: We will test approaches and decide on a mechanism for collecting diversity data to inform our baseline to measure progress by the end of 2023/24.
Progress indicator
By developing a mechanism for collecting diversity data:
we will have improved visibility of representation on governing bodies to inform our policy and regulatory interventions
we will have a data set to inform further qualitative engagement with schemes to test the impact of EDI, decision making, and governance standards
Engagement
We will continue to work with industry stakeholders to focus on how the roles of employers, chairs, and professional trustees can be influential in diverse recruitment and in developing a culture of inclusion.
We want to test how our guidance has supported trustees to implement change, identify any barriers and best practice by engaging with trustees through our supervision teams during 2023.
Action: We will continue to engage and work with our stakeholders and regulated community to learn, build our experience, and continue to evolve our thinking to better support governing bodies.
Progress indicators
Through our engagement:
trustees can demonstrate they meet good practice
we will develop a deeper understanding of evolving practices and barriers that will support policy development, regulatory initiatives, and interventions
we will develop our evidence base to measure improvements in governance practices and decision making