Published: 5 November 2019
Master trust authorisation has raised standards for the 16 million memberships saving into the 37 authorised schemes in the market, which have demonstrated that they meet the required standards across five key areas:
Fit and proper – All the people who have a significant role in running the scheme can demonstrate that they meet a standard of honesty, integrity and knowledge appropriate to their role.
Systems and processes – IT systems enable the scheme to run properly and there are robust processes to administer and govern the scheme.
Continuity strategy – There is a plan in place to protect members if something happens that may threaten the existence of the scheme, including how a master trust would be wound up.
Scheme funder – Any scheme funder supporting the scheme is a company (or other legal person) and meets the requirement that it only carries out master trust business.
Financial sustainability – The scheme has the financial resources to cover running costs and also the cost of winding up the scheme if it fails, without impacting on members.
Overview of the market
In total, 37 existing master trusts have been granted authorisation.
Those schemes represent 16 million memberships and hold more than £36 billion in assets. Authorisation has resulted in many improvements to the schemes, including the following:
Changes have been made in relation to those responsible for running master trusts to remove individuals with conduct issues or to strengthen the overall competence of the trustee board. This is as a result of the fit and proper assessments.
Schemes have put more robust systems and processes in a number of areas and we now have far stronger assurance over how these will be maintained in the future.
A number of schemes had to amend the continuity strategy to comply with the legislation, in order to protect member benefits.
We have seen a major shift in the level of financial due diligence applied by DC trustees. For example, in a number of instances, trustees took covenant advice on the corporate entities sitting behind master trusts.
£524 million is being reserved to protect members from paying any costs related to the scheme.
More than two thirds of master trusts are commercial, with the remainder being largely not-for-profit schemes, so there are a number of choices for employers when meeting their automatic enrolment duties.
Raising the bar
Through the authorisation process, we challenged some schemes on their application and this led to several making significant changes to achieve authorisation.
In particular, the total amount of financial reserves held by the schemes has increased by £93 million. These reserves will cover the costs of winding up a scheme and protecting members' pension pots. Scheme documents, including outlining a scheme's systems and processes, were also strengthened.
Consolidation of the market
At the start of the authorisation process, there were 90 master trusts in the market. Of the 38 existing master trusts that submitted applications for authorisation, 37 have been granted authorisation and one scheme withdrew its application. This is a reduction in the overall size of the market by 58.8%.
We expected the introduction of authorisation to drive consolidation of the market. Eleven schemes have exited the master trust market so far, and a further 36 have notified us of a triggering event to exit the market and will transfer their members to an alternative master trust scheme or other appropriate vehicle.
We continue to work closely with the trustees and associated key people in the master trusts that chose to exit the market, to make sure the exit plans are orderly and ensure savers are not put at risk. The remaining schemes ultimately did not meet the definition of a master trust, as outlined in legislation. As a result of this, the number of master trusts in the market has fluctuated and our published figures reflect this.
New schemes
An additional application has been submitted by a new master trust and it is being assessed.
New master trusts can apply to enter the market at any time. They must provide evidence outlining how the scheme will meet the five authorisation criteria. However, new schemes will be more intensely supervised compared to existing schemes because they will not have an operational track record. More intensive supervision will give these new master trusts the opportunity to demonstrate that they continue to meet the authorisation criteria.
Supervision
Now that master trusts have been authorised, they will enter supervision. This means we will need to remain satisfied that they continue to meet the authorisation criteria, using our powers to intervene if necessary.
We will undertake a range of supervisory activities with master trusts, which will involve engaging with trustees, strategists and scheme funders as well as other relevant persons, including the scheme administrator. Activities will include periodic scheme evaluations, proactive monitoring of particular concerns, and requesting the supervisory return to be completed annually.
We will take a risk-based approach to supervision. By the end of the year, schemes will understand how often we intend to engage with them and what our information requirements will be. Some schemes will be more intensely supervised than others. We will determine the supervision intensity by considering a number of factors, including the current and anticipated risks of the master trust, its scale and complexity, information gathered during authorisation, any supervision or enforcement activity, the level of openness, honesty and proactivity demonstrated by the master trust, and any industry and market developments such as changes in legislation and product innovation.
We expect those responsible for master trusts to be open, honest and transparent in their interaction with us and continue to meet their obligations.
Conclusion
Our list of authorised master trusts will remain on our website, with new authorisations added and any schemes that exit the market removed.
Because of authorisation, the quality of master trust products and providers has improved; therefore increasing protection for members. The authorisation of master trusts offers a route for consolidating DC schemes, and the reduction in the size of the market by 53 schemes is evidence of the high bar for authorisation.
Now that the last existing master trusts have received a decision on their authorisation applications, we will not be publishing any future master trust market updates.
Chart: master trust application and authorisation numbers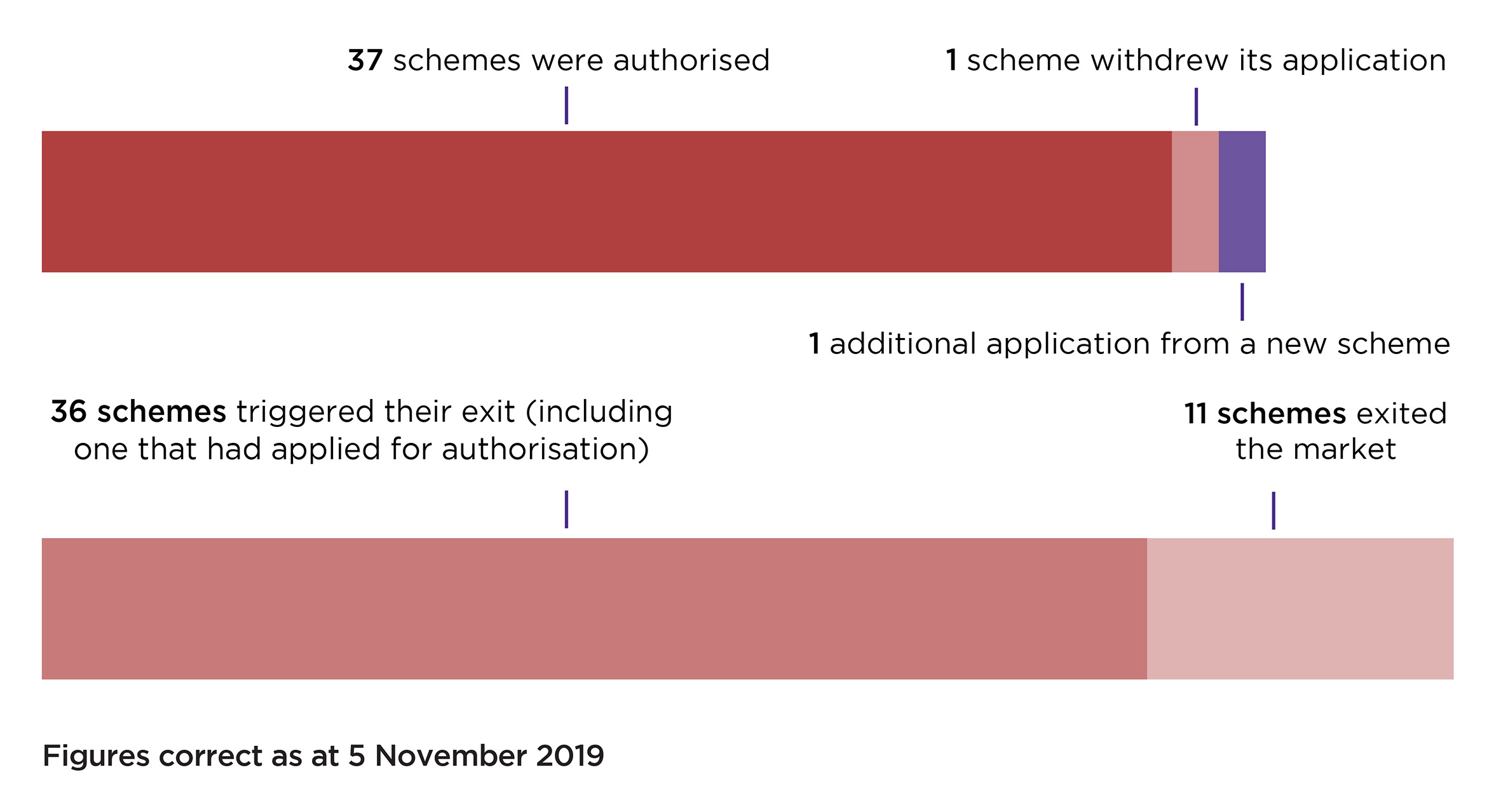 Note: Throughout authorisation, the total number of master trusts in the market has fluctuated at around 90. The remaining schemes ultimately did not meet the definition of a master trust as outlined in legislation.