Additional information and resources to help you prepare if you'll be receiving a two-part defined contribution (DC) scheme return.
If you're completing the scheme return by the usual process this year, see DC scheme return.
For general queries, see scheme return, including how to complete the scheme return in Exchange and the most common queries.


Important
Some (mainly larger) DC schemes will need to complete the scheme return in two parts this year.
All two-part scheme return notices will be issued in July 2022.
The scheme return must be completed by the due date in your scheme return notice.
Due to a technical issue, some schemes have been incorrectly issued with different due dates for part 1 and part 2 of their scheme return. In these cases, the latest date for submitting the scheme return should be taken as 4 October 2022. However, please do not wait until the due date to submit your completed scheme return. You should aim to submit the scheme return as soon as possible.
This year's scheme return: what's changed?
This year, we will check whether schemes carry out their duties to publish their statement of investment principles (SIPs) and implementation statements.
Make sure you respond to the relevant questions in the scheme return in respect of environmental, social, and governance (ESG) and climate change.
There are a number of new questions for some (mainly larger) DC schemes this year. The scheme return will also be issued in two parts for these schemes.
Part 1 will contain the new questions, and you can complete it on a separate online form.
Part 2 will contain the rest of the questions, and you can complete it in Exchange as usual. The questions in Exchange will be the same as on your previous scheme return.
New questions this year
Information about the more detailed value for members (VFM) assessment
Trustees of most DC schemes must carry out a more detailed VFM assessment (involving comparison with other schemes) where the scheme holds less than £100 million total assets according to the most recently audited accounts and has been operating for three or more years at the point those accounts were obtained by the trustees.
Executive pension schemes and relevant small schemes are exempt from these requirements.
If these requirements apply to you, we will ask you to enter information about the detailed assessment and its outcome if it has been carried out.
Website address where extracts from the chair's statement have been published
Trustees of most schemes providing DC benefits are legally required to prepare a chair's statement containing certain information within seven months of the scheme year-end. Relevant small schemes and executive pension schemes are exempt from this requirement.
Some of the information from this statement must be published on a publicly accessible website, free of charge.
If these requirements apply to you, you will need to provide us with the web address where the extracts have been published.
The website addresses where the scheme's statement of investment principles (SIP) and implementation statement have been published
This question only applies to trustees of schemes with more than 100 members. The SIP and implementation statement must be published on a publicly available website, free of charge.
If these requirements apply to you, you will need to enter the website addresses of the published SIP and implementation statement.
The website address where the scheme's climate change report has been published
Trustees need to comply with the climate change governance and reporting regulations if their scheme:
has relevant assets of £5 billion or more at the end of their first scheme year ending on or after 1 March 2020 – in which case they must comply from 1 October 2021 (or if later, and if the scheme is not an ear-marked scheme, from the date the trustees obtain audited accounts in relation to that scheme year-end date)
is authorised (an authorised master trust or an authorised collective defined contribution scheme) – in which case they must comply from 1 October 2021 (or if later, from the date the scheme becomes authorised)
If you need to comply with these regulations, you will need to enter the website address of the scheme's published climate change report (also known as a 'TCFD report').
You can view all the new questions and guidance in part 1 of the example scheme return.
Prepare for your scheme return
Update your scheme contacts using Exchange
Before taking any other action, please log into Exchange and make sure your contact details are up to date.
Check what information you need
Take some time to familiarise yourself with the example DC scheme return. This includes all the questions you will be asked, so you can gather the information you'll need to complete them.
You have to submit a scheme return for all DC schemes you're responsible for.
If you have any queries about the scheme return, contact us.
Receiving the scheme return notice
We will send your scheme return notice in two parts in July 2022.
Part 1
The first part will be emailed to a single designated scheme contact or trustee and will include a link to the new questions. This is a secure link and unique to the recipient of the email. No one else will be able to access the link unless you share it with them.
This email will be sent from: paperlessSRN@thepensionsregulator.gov.uk. Double-check the email comes from this address before clicking the link.
If we have contacted you to say you need to complete a two-part scheme return, and you haven't received the first part of your scheme return notice by the end of July 2022, please check with other scheme contacts it may have been issued to. Please also check your spam filters and speak to your IT team to check that this email address has not been blocked. If you still haven't received it, contact us.
Part 2
The second part will be sent by email to the scheme return contact and the trustees. It will look the same as last year's scheme return notice and will contain a link to the rest of the questions to be completed in Exchange as normal.
You must complete and submit both parts of your scheme return by the due date in your notice.
Complete your scheme return
Part 1
Answer the new questions by clicking the link to the online form in the first part of the scheme return notice. The new questions will have guidance alongside them. You can also look at this guidance in the part 1 example DC scheme return. Further information on using the online form is below.
Part 2
Complete the rest of your scheme return as normal in Exchange. The link to Exchange will be provided in the second part of the scheme return notice. Select the help icon in Exchange for further guidance on any particular scheme return question.
You can view all the help text for Exchange scheme return questions without having to log in to Exchange. Some of the help text headings may appear more than once due to the way Exchange manages information. See further information on how to use Exchange including how to associate to a registered scheme.
Using the online form to answer the new questions
The new online form is secure and similar in format to a survey. It contains multiple-choice questions as well as text boxes where you can enter information. Questions marked with a * are mandatory. Examples are shown below.
You can submit the form as many times as you need to until the scheme return deadline. However, each time you will need to complete it from the beginning.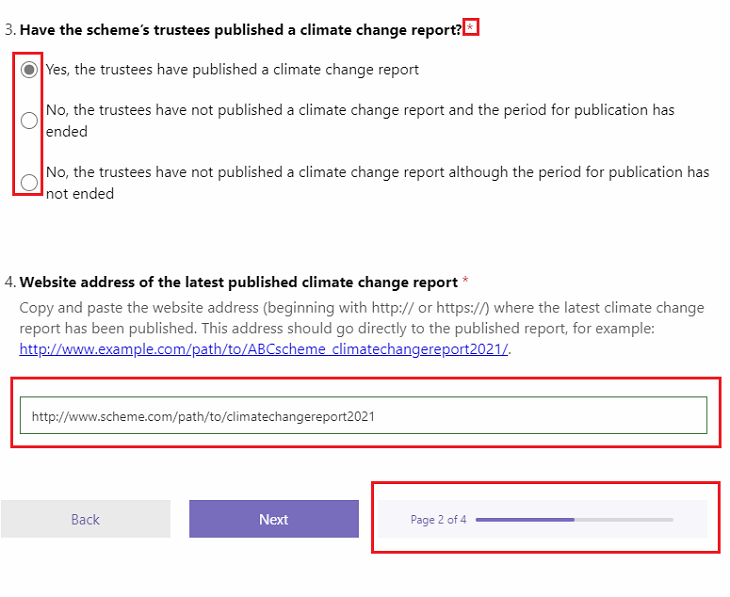 The form is split into pages and you can see your progress in the bottom right corner. Your responses will be saved, but only while the form is open in a browser window. If you close the form before you select 'Submit', you'll have to start again.
Sharing the online form for review and approval
We understand you may need to share responses to the new questions for approval before submitting.
The simplest way to do this is to take screenshots of your responses in the form using the 'print screen' button on your keyboard. You can then copy and paste the screenshots into a Word document which can then be shared.
Submitting the online form
Once you have answered the new questions, you will need to confirm who is authorised to submit this part of the scheme return. The usual scheme return contact details will be displayed, but if another person is submitting the form, their details can be entered.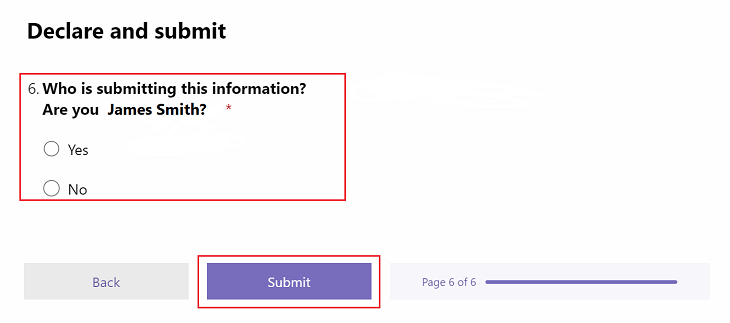 Once you have completed this section, click 'Submit' to submit part 1 of your scheme return. You will see a confirmation screen that you can print or save as a PDF for your records. You will not receive a separate email confirmation.
If you submit the form by mistake or need to make changes at a later point, click the link in the scheme return notice email again. You will see a blank form where you can enter and submit all the information again. The latest information you submit will be saved in our records.
Your legal responsibility
As the trustee or manager of a registrable scheme, you must provide us with a scheme return, unless the scheme has only one member, has wound up or another exemption applies.
If a scheme return hasn't been completed and submitted by the deadline stated in the scheme return notice, this may be a breach of the Pensions Act 2004 and you risk being fined.